Getting started
This is a very simple WordPress Developer's guide for newbies, using the website you commissioned from us. To get the best out of this guide you must be able use a word processor or write emails, editing the text and inserting images. In order to continue you need to refer to your "Welcome to your WordPress Website" email. A guide to WordPress and useful links can be found in the email.
Sign in to WordPress using the address you were given in the 'Welcome' email, e.g. www.yoursite.co.uk/wp-login.php and your username and password. You should then see something like this page. Note the blue arrow.
Click on "Pages" and then "all pages" in the left hand menu. You will then see the next screen.
This site has only three pages: About, Information and Contact Us.
WordPress developer's guide amending a page
If you hover over the page names then a sub-menu will appear as can be seen in "Contact us" above. To edit a WordPress page simply click on the Page name or the sub-menu option "Edit" NOT "Quick Edit." The other options are obvious.
When in doubt use the back button to get back to the last step. WordPress auto saves earlier versions of your WordPress web page which you should be able to get back to.
Editing a WordPress Website Page
Simply change or add text as you would in an email or in a word processor. The icons are fairly standard, however you can hover over them for a hint as to what they do.
To add a picture to your WordPress page click on add media and upload your pictures. (see adding pictures a later section). The image can be dragged and also positioned using the left centre and write icons.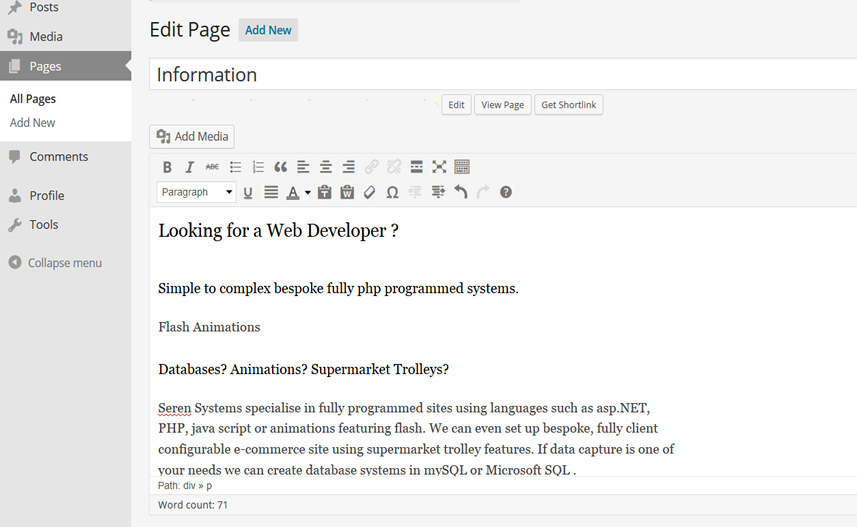 The "View Page" button above and "Preview changes" in the Publish module below allows you to see how it looks. These buttons open in a new window which you close when you finish pre-viewing the changes.
Publishing your changes
To finish editing and update your WordPress web site, scroll down to Publish module which is underneath the editor you have just been using and click on the blue "Update" button. Note you can hide pages using Visibility and browse earlier revisions.
Publishing a revised WordPress development

WARNING if you do not see the "Update" button click on the triangle to the far right of the heading "Publish"

Updating a wordPress page
Search Engine Optimisation / SEO
If you are familiar with the techniques then you can enter the keyword, title and description at the bottom of the web page you are editing. The SEO entries are present due to the plugin we installed for you. Be aware that SEO is not learned overnight and does take time and effort to get a great ranking. Check out the SEO Blog in the support menu.